Every year, Maywood motorists have paid thousands of dollars in state gas taxes, and every year, Maywood receives that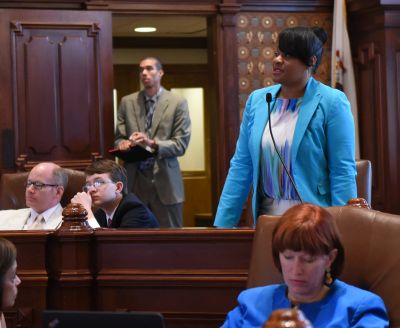 revenue for important road projects and maintenance. But this year, Springfield has kept the money rather than sending it back to help pay for the road salt, snow plow repair and pot hole patching that are communities need – especially for the upcoming winter months.
"It is the duty of your state government to collect and allocate funds," said state Sen. Kimberly A. Lightford, a Chicago Democrat who also represents area townships and municipalities, such as River Forest and La Grange Park in the Illinois Senate. "Unfortunately at the behest of the governor, your state government has only collected your tax dollars. It is high time we send back the tax money you deserve to sustain your community."
The money can't be sent to the communities without some kind of official authorization. In May, Gov. Rauner vetoed the Senate-approved proposal – SB 2033 – that did that. The system has been at a standstill ever since.
In 2014, Maywood received nearly $600,000 in gas tax money. Across Cook County, local governments received almost a $100 million in gas tax money last year.
Other area communities received the following amounts in 2014:
• Bellwood - $472,139.73
• Berwyn - $1,402,654.33
• Broadview - $196,372.09
• Brookfield - $469,837.33
• Forest Park - $350,731.64
• Hillside - $201,942.42
• La Grange - $384,970.53
• La Grange Park - $336,174.56
• Northlake - $305,079.84
• North Riverside - $165,178.36
• Oak Park - $1,284,340.84
• River Forest - $276,584.58
• Westchester - $413,886.61
Additional information about how much local communities are owed in gas tax money is available here.
This September, Lightford and other Illinois Senate Democrats anticipated this looming problem and again attempted to prevent it. In order provide the authority needed to send along the gas tax money back to where it belongs, the Senate approved another plan to free up those crucial dollars. Senate Democrats provided the 36 votes needed to approve it. At the direction of Gov. Rauner, all Republican opposed the legislation.
The legislation – SB 2046 – remains pending in the Illinois House.
"With winter fast approaching and the roads already getting slick with ice, it is more important now than ever, to free up these dollars to do some good here at home," said Lightford.