Published: Wednesday, July 07, 2021 02:45 PM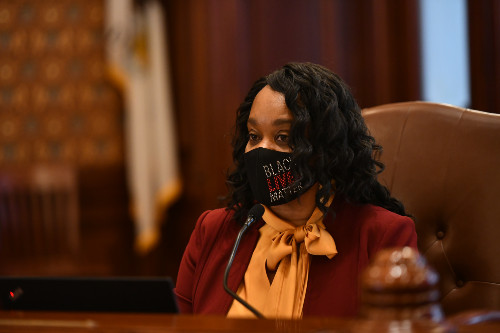 MAYWOOD – As advocates of providing quality health care to all families, State Senators Kimberly A. Lightford (D-Maywood), Omar Aquino (D-Chicago), and Patricia Van Pelt (D- Chicago) celebrated health care centers in their communities receiving a share of Illinois' nearly $95 million investment in equity focused health care.
Recently, Gov. JB Pritzker and Illinois Department of Healthcare and Family Services announced $94.3 million is being awarded to eight collaborative community-based programs across the state. HFS will oversee administration of the awards with the goal of improving health outcomes, reducing inequities, and improving access to quality health care.
"Black and Brown people have, for decades, faced disparities in access to quality health care services. These disparities were highlighted over the course of the past year and a half as we watched COVID-19 ravage our communities," said Aquino, who advocated for the creation of the Healthcare Transformation Collaboratives program. "This investment in hospitals Black and Brown residents rely on demonstrates a commitment to the health and wellbeing of those who have historically been left behind. In Illinois, we understand that access to affordable, quality, and equitable health care services is a basic human right."
One of those programs is called Collaborative Bridges. Spearheaded by the Community Counseling Centers of Chicago, the program will focus on improving mental and behavioral health outcomes in disadvantaged communities by improving the continuity of care between health care centers and communities, ensuring patients have the resources they need when they leave the hospital. Partners and collaborators in the program are pillars in Cook County and Chicago health care. They include:
The Loretto Hospital
Habilitative Systems, Inc.
Humboldt Park Health
Hartgrove Hospital (UHS)
"For too long, Black and Brown communities have gone overlooked and underserved by our health care system," Van Pelt said. "This investment represents a crucial step toward a more equitable system that gives every Illinoisan the opportunity to take care of their health—mental health included."
"Loretto Hospital is a staple in the Austin community, and providing them with tools to tackle mental and behavioral health issues helps protect the wellness of the entire community," Lightford said. "Until Black and Brown residents no longer see disparities and inequities in their communities, our work is not done. This program is a step forward in making a change."
More information about the Collaborative Bridges program is available on HFS's website. More information on all funded partnerships can be found at hfs.illinois.gov/transformation.
Category: News