Published: Wednesday, May 13, 2015 07:34 PM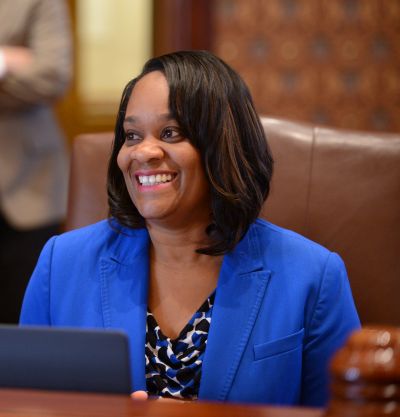 SPRINGFIELD – Students with developmental disabilities may soon find it easier to get the help they and their families need. Sponsored by Assistant Majority Leader Kimberly A. Lightford (D – Maywood), the prospective law would require the Dept. of Human Services (DHS) and the Illinois State Board of Education (ISBE) to train public school case workers to register students with the PUNS (Prioritization or Urgency of Need for Services) database.

It is widely argued that due to a lack of awareness, PUNS is under-utilized, and therefore, in some cases, people with developmental disabilities across the state are not getting the services they need. The legislation is an attempt to ensure students in Illinois public schools and parents have the information they need to register with PUNS if they so choose.

"The PUNS database was instituted to ensure that people with developmental disabilities were never overlooked and always given help," said Sen. Lightford. "Through this legislation, we can ensure that the database reaches its fullest potential so that these young people in the greatest of need can achieve their fullest potential too."

DHS and ISBE would also have to develop a new program to provide resources and training for case workers so they are as prepared as possible to provide these students and their families with the information and advice they need. The measure also requires ISBE to inform parents and guardians through school districts on the PUNS waiting list.

Senate Bill 226 now goes to the House of Representatives for further discussion.
Category: News